Persistent Organic Pollutants (POPS)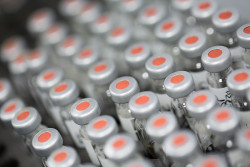 ALS Environmental are able to offer a unique High Resolution Mass Spectroscopy (HRMS) services for ultra trace analysis of Persistent Organic Pollutants (POPS) from our European laboratories. The POPs suite, which is now a requirement under Waste Management 3 (WM3), is available from our HRMS laboratory in Pardubice (Czech Republic).
Whats are POPs?
Persistent Organic Pollutants (POPs) are synthetic chemicals that have been produced and released into the environment. They are known as persistent due to the time they take to degrade, with some compounds taking centuries.
To download our datasheet on POPs, click here.
The Stockholm Convention
Led by the United Nations Environment Programme, the Stockholm Convention is a worldwide agreement call for the elimination of 12 POPs that are grouped according to their origin and use:
Pesticides – Aldrin, Dieldrin, Chlordane, DDT, Endrin, Heptachlor, Mirex, Toxaphene
Industrial Chemicals – PCBs & HCBs
Unintended Byproducts – Dibenzodioxins & Dibenzofurans
The ALS Environmental POPS suite includes:
Polychlorinated dibenzo-(p)-dioxins and dibenzofurans - 17 most toxic 2,3,7,8 PCDD/F
Polychlorinated dibenzo-(p)-dioxins and dibenzofurans - by groups according to their level of chlorination (sums of 210 congeners)
dioxin-like PCBs
mono- to deca- chlorinated biphenyls (sums of 209 PCBs)
Polycyclic aromatic hydrocarbons (PAH)
Polybrominated diphenyl ethers (PBDE)
Polybrominated biphenyls (PBB)
To download more details on our POPs analytical offering, click here.
Main applications in Pardubice
Ambient air monitoring
Combustion source testing
Stack testers - Consulting engineers
Ash disposal
Source determination
Environmental impact of diesel engines
Wipe samples analysis
Groundwater monitoring
Surface water analysis
Drinking water analysis
Food and Feeding mixtures
Biological tissue analysis
Contamination levels in human blood and milk
Bioconcentrations factors - Bioaccumulation of dioxins
Characterization of soils/sediments
Lime production - Kaolinitic clays
Site remediation
Effluent monitoring
Organic pigments and dyes
Chemical manufacturing
Pesticides production
Pulp and paper
Wastewater and biosolids
Hazardous waste classification - Waste disposal
Destruction of industrial waste
Emergency response
International customers
Analytical laboratories support
Analytical trainings
Stockholm Convention implementation
European, American, Asian and international projects
Local legislation - specific directives and Regulations
Help to regulations settings - New norms - New Standards
Instrument/method development