Company Profile
With more than 400 locations, operating in more than 60 countries throughout Australia, North America, South America, Africa, Middle East, Europe, and Asia, ALS is now one of the largest testing services providers in the world.
The largest business component of ALS today is its internationl testing services provision. In this sector, we are focused on delivering world-class services through four main divisions: Minerals (Geochemistry, Metallurgy, Mining and Inspection); Life Sciences (Environmental, Food & Pharmaceutical, Animal Health and Electronics); Energy (Coal and Oil & Gas); and Industrial (Asset Care and Tribology); and offering a broad range of technical services to our clients that is unrivalled.
All ALS laboratories operate under formalised quality systems, and include:
Dedicated quality control chemists in each major laboratory
A dedicated quality control group in each region of the world,
Technical managers for each service area in which the company operates.
As a professional services organisation, ALS is committed to the ongoing professional development of all staff members through peer interaction, as well as in-house and external training programs. ALS operates a global proactive occupational health, safety, and environmental compliance program that ensures consistent conformity with local regulatory requirements throughout the world.

Take a look at our global capability statement here.
ALS Laboratories
The Environmental division of ALS is one of the largest, most geographically diverse environmental testing companies globally. ALS Laboratories has more than 400 locations in over 60 countries throughout Asia, Australia, Europe, North America and South America to provide clients with analytical and technical support for local and international projects. ALS provides reliable analytical testing data to assist consulting and engineering firms, industry, and governments in making informed decisions about their environmental projects. A comprehensive range of environmental testing and technical support services is complemented by a commitment to quality client service.
ALS Laboratories in Europe employs over 1200 professional laboratory and support personnel to ensure that work is managed properly and deadlines are met. Analytical laboratory testing services includes:
routine, trace and ultra-trace level organics (pesticides, chlorinated compounds, TPH, PAH, etc.),
metals and nutrients,
inorganic non-metallic,
microbiological,
biological,
toxicological parameters,
particle sizing
radio nuclides.
In addition to routine services, we have experts in speciality testing areas such as isotopes and biomonitoring.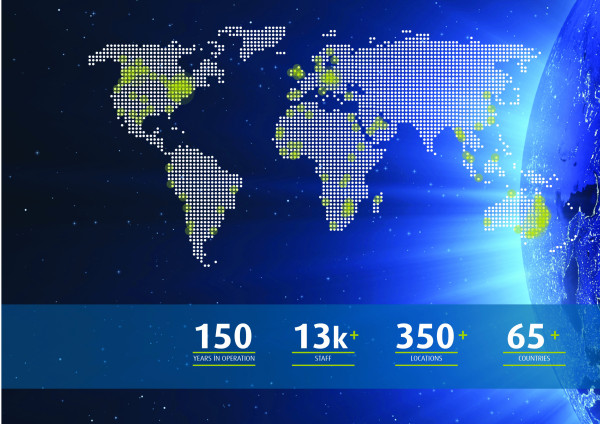 History
Our company can trace its origins to 1863 when Peter Morrison Campbell first established a soap making business in Queensland, Australia. After listing on the Australian Stock exchange in 1952, the modern era of the company began in 1981 with the acquisition of Australian Laboratory Services Pty Ltd and a shift to becoming a highly regarded international testing, inspection and certification company employing in excess of 13,000 staff.
Irrespective of our size, we have always retained a uniqueness that has allowed us to truly understand the industry, encouraging innovation and an entrepreneurial spirit that creates strong links between our global business operations.
At ALS, we are committed to the health and safety of our people, the environment and the communities in which we operate; allowing us to establish long-lasting relationships with clients and make positive contributions to the regions in which we live and work.
Our Values are simple and we incorporate these in our daily operations, never forgetting the foundations of our success:
Honest
Safe
Resilient
Curious
Committed
Caring
So what is The ALS difference? It's simple: RELIABILITY - QUALITY - LEADERSHIP - TRUST.
The reassurance to know you are working with a Winning Team. We are all working towards the same goal - our team is your team!