Access pin codes at all ALS Big Yellow & Armadillo drop-off locations change every 3 months
Next update due - January 2024
---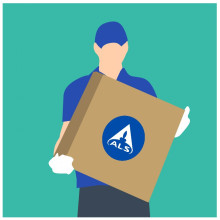 To help clients comply with sample stability times, ALS Waters have a large portfolio of drop-off locations. Many drop-off locations are visited every evening by our in-house refrigerated courier team who transport the samples overnight to the appropriate ALS laborator
y.
Some of our drop-off locations are only visited when booked a day in advance, we call these On-demand locations. In these cases, you must notify us of your intention to use the location by 16:00 the day prior to drop-off to ensure that one of our drivers will be routed to collect your samples. On-demand locations are clearly highlighted below and when using our postcode search facility.
All of our drop-off locations are accessible Monday to Friday, with the last entry to sites at 17:45 in the majority of locations. Please check below for exceptions and site specific details.

Site specific details, including access codes, are available from client services.
For collection requests for ALS Land - Hawarden, please contact them directly on:
To search for your nearest drop-off location, please
click
here
.
For the full list of ALS drop-off locations and addresses please
click
here
.
The ALS Waters drop-off locations are (click to view in Google maps):
OUR CURRENT ON-DEMAND LOCATIONS ARE:

ABERDEEN, CARLISLE, DUNDEE, DURHAM, EDINBURGH, HULL, MAIDSTONE, NORWICH & NEWTON ABBOT.

THESE MUST BE BOOKED BY 16:00 THE DAY BEFORE COLLECTION IS REQUIRED TO ENSURE A COLLECTION TAKES PLACE.

IF YOU HAVE ANY QUESTIONS, PLEASE CALL CLIENT SERVICES ON 02476 421 213.
Our drop-off locations are in addition to our service centres in Dublin and laboratories in Coventry, Wakefield and Otterbourne all highlighted in yellow above.

To use one of our drop-off locations, contact our Coventry client services team on 02476 421 213 - they will supply you with access details and a consignment number.

To view the drop-off process as a flow document, click here.