ALS Environmental Capability Statement - Europe
Jan 5, 2014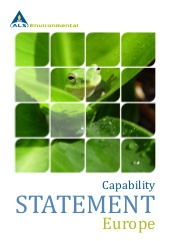 The Environmental structure of ALS Life Sciences is one of the largest, most geographically diverse environmental testing companies globally. ALS Environmental has more than 350 locations in 55 countries throughout Asia, Australia, Europe, North America and South America to provide clients with analytical and technical support for local and international projects. ALS Environmental provides reliable analytical testing data to assist consulting and engineering firms, industry, and governments in making informed decisions about their environmental projects. A comprehensive range of environmental testing and technical support services is complemented by a commitment to quality and customer service.
ALS Environmental in Europe employs over 1200 professional laboratory and support personnel to ensure that work is managed properly and deadlines are met. Analytical laboratory testing services includes routine, trace and ultra-trace level organics (volatile and semi volatiles, pesticides, chlorinated compounds, TPH, etc.), metals and nutrients, inorganic non-metallic, microbiological, biological, toxicological parameters, particle sizing and radio nuclides. In addition to routine services, we have experts in speciality testing areas such as isotopes and biomonitoring.
Click here to download the capability statement.
For further information please do not hesitate in contacting us, tel: 024 7642 1213 or email us on: info.ukenviro@alsglobal.com