ALS Launch Webtrieve - Online Customer Portal
Nov 18, 2013
As part of our on-going investment in technology, ALS Environmental have developed 'Webtrieve' – an industry-leading customer portal which provides instant access to analytical data, wherever you are and when you require it most.
At ALS we pride ourselves on our ability to deliver exceptional service with uncompromising quality and integrity. We view our clients as partners and by taking this approach we are able to provide a service that not only meets their needs now but also in the future.
To ensure we continue to lead this diverse and ever changing industry, we invest significantly in innovation and embrace emerging technologies, pushing the boundaries of efficiency and quality. By partnering with ALS, you will experience scientific testing and reporting at its very best.

Customer Portal Benefits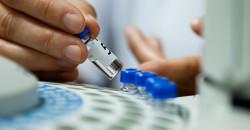 Webtrieve has been developed specifically for ALS. The system provides up-to-date access to results and data and has been designed to meet the needs of our customers in the environmental sector. Benefits include:

- Real time online access to your analytical data
- Search and filter functionality, access and manage your data history
- Personalise and customise your data interface with our unique 'Tracker'
- Export data in the format which best suits you
- Online access to certificates and download reports at your convenience
- Trend analysis - one click data trending
- No hidden access costs
Security
This is a secure service made available to registered users of the ALS Environmental Webtrieve website. The secure web-based system is password protected and provides full confidentiality for our customers.
System Requirements
- Internet Explorer 6 or higher or Firefox version 2 or higher
- Adobe Flash player (for interactive reports)
- Microsoft Excel Office 2003 (or higher) (for data extracts)
Interested?
To register for a customer account, view a demonstration on how the system works or for further information on the time-saving benefits of Webtrieve, please contact our Customer Services Department on:
Tel: 024 7642 1213
Email: info.ukenviro@alsglobal.com