Launch of Eco-friendly Sample Containers
May 10, 2019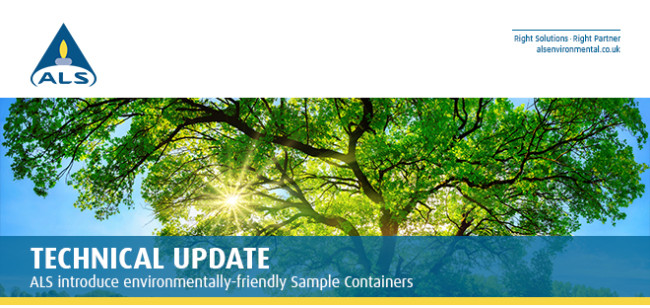 ALS Environmental has built a reputation on technical innovation and being a true services partner to all our clients across a broad spectrum of end markets. As part of this commitment, ALS continues to pursue strategies to further improve sustainability and enhance our future operations and relationships with our clients.

A key objective of our Sustainability Strategy is to reduce plastic consumption and minimise waste from our laboratory operations.

Following successful field trials, ALS Life Sciences are pleased to announce a pioneering move to a completely plastic free sampling container.

The cardboard 'Eco-box' style containers are 100% recyclable and biodegradable and will be phased into circulation with immediate effect.

Customers will be offered the opportunity to use the new containers (ALE230) when placing sample container orders.
To download the ALS container guide, please click here.
Collaborating on projects with our ALS colleagues to achieve results on a global scale, ALS in Hawarden are leading the innovation across Europe in offering the first available alternative to plastic soil containers.

Key Benefits
Replaces 1kg plastic tub (ALE 223).
​Appropriate soils analysis includes Asbestos ID & Quantification, PFAS, Top Soil Suite, PSD and leachate preparations.
​Biodegradable with a PLA lining: Polylactic acid which is a resin made from corn starch.
Compostable.
​Reduce Plastic consumption by 2,800kg per annum by removing 60,000 plastic tubs from circulation.
​Easy fix adhesive label to secure lid.
​​Robust analytical testing of the container and a comparison analysis utilising Quality Control and live client samples has produced replicable results across a range of organic and inorganic parameters.

Transportation of the containers in cool boxes and cool bags has been successfully trialled using several of our logistics partners such as DHL, City Sprint and UPS. The feedback from consultants who have trialled these boxes in the field has also been universally positive and this is an exciting first in the industry helping to improve environmental sustainability throughout the supply chain.

If you require any other information on this technical update, soils analysis, or any other analytical enquiry please contact our Customer Services team on (0)12 4452 8777 or Email hawardencustomerservices@alsglobal.com directly.