Microbial Swab Analysis
The analysis of swab samples in a microbiological investigation can be an invaluable tool to help trace contamination pathways. Often used in hard to samples areas, such as ice machines or under cupboards this approach offers an opportunity to monitor bacteria around key infection routes.
Why use Swabs?
A swab is used for the microbiological recovery of bacteria. They are useful for the recovery of aerobic, anaerobic and fastidious organisms. Swab samples offer clients the option of safe and efficient transport of bacteria from the sampling outlet to a laboratory for analysis.
Swab analysis is usually undertaken under the following scenarios:
Difficult to get to sampling points
To sample surfaces, walls, equipment and machinery
To sample taps to determine the condition of a tap - can often be obtained by taking swab samples from the inside of the tap and around the nozzle. This can be difficult with certain types of taps, where the design of the tap prevents or inhibits the insertion of the swab into the tap
Investigation of failures – did a sample fail due to the sampling point e.g. a contaminated or poorly maintained tap or the water in distribution? A swab sample taken before disinfecting the tap may be used to investigate whether the tap or water is contaminated with bacteria, compared with a swab sample taken after the tap has been correctly disinfected.
Swab samples taken from taps that have been disinfected can be used to demonstrate the efficacy of the disinfection procedure.
The range of microbiological analysis that ALS Environmental are able to offer on swabs includes: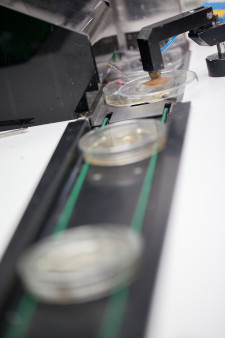 Legionella

Listeria

Salmonella

Total coliforms

E coli

Enterococci

Clostridium

Pseudomonas

Staphylococci

Yeasts and Molds

Total Viable Counts (TVC)
ALS Environmental are able to provide you with the relevant sampling tools and diluent to ensure that bacteria on the swab at sampling is present at the analytical stage.