Reducing our environmental impact
May 28, 2019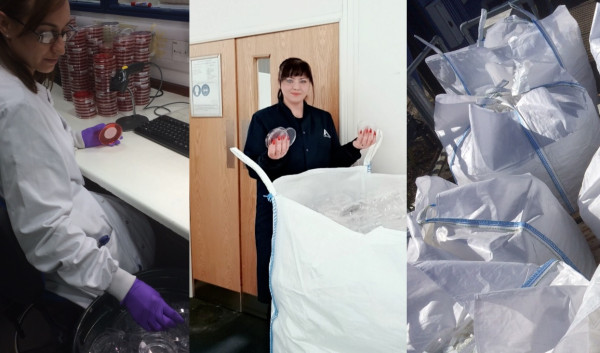 Given the nature of our business, ALS generates a sizeable waste stream. We already have an extensive recycling scheme in place to reduce the amount of cardboard, plastic, glassware, printer cartridges and electrical waste that we send to landfill, but as a group, and individually, we are continually looking for ways to further reduce the impact of our waste on the environment. Our Hawarden Laboratory recently launched a new environmentally friendly container to replace plastic sampling pots, reducing plastic consumption by around 2800 kg per year. Read more about it here.
Two employees at our Coventry site, Leah Collett (Buyer) and Malgorzata Gozdur (Health and Safety Environmental Coordinator), have initiated a plastics recycling campaign with the aim of reducing the pollution caused by traditional waste disposal methods. Introducing two new plastic waste streams, one for clear plastic consumables (e.g. petri dishes and test tubes) and another for opaque plastic consumables (e.g. pipette tips, pots and containers), we managed to recycle 1700 kg of plastic in April alone.
Starting in June, a newly purchased bailer will become operational which will facilitate even greater recycling capacity. Furthermore, we will now be able to recycle the lids from some bottles which were not previously recycled due to the presence of a rubber seal. Ingenious ideas, like removing the rubber seal (of course making sure our sample bottles are still secure and fit for purpose) means that we'll now be able to recycle even more of our plastic waste. Additionally, water cooler bottles and cryptosporidium carboys are also being recycled!
Every ALS employee is aware of their part to play in reducing the amount of waste we generate and send to landfill or incinerate. Site Operations Manager, Pervinder Johal, commented:
It is great to see the ALS core values of 'hard work and continuous improvement' and 'doing it better' being put into practise by our employees - their efforts are having a transformative impact on our contribution to environmental sustainability
ALS Environmental takes great pride in its ISO 14001 Environmental Management System accreditation and will continue to work towards a greener future.