A BRIEF GUIDE
This guide provides a basic overview of the myALS service
Finding the portal
From any page on our website, select 'Online Services' in the top right-hand corner of the page

Next, select myALS. Note, Data View Login is for legacy customers only.
myALS Homepage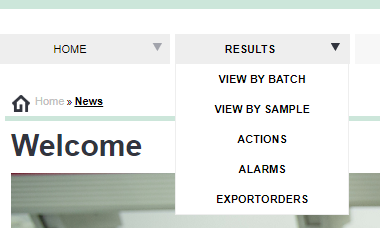 After entering your login credentials you'll be presented with the home page.
Hovering your mouse over the headers at the top of the page, it is possible to see the categories contained within each heading.
To find results for a specific job you can use the search function at the bottom left. Next to the box that says SDG Number, enter your ALS job number - this will then show all of your results for the chosen job.
The number of samples shown per page can be altered by the clicking in the box displaying '10' on the left. The format of the results can also be changed between Vertical, Horizontal and Enhanced Horizontal.
Additional Functionality
Any text that is underlined can be clicked on to show more information.
This is where any analyst comments and the date the results were entered can be found.
The small boxes with the '+' symbol can be expanded to display additional fields. The PDF
icon above each sample number will provide a copy of the certificate and by clicking on the Excel
icon you can view your data in a spreadsheet.
If 'View by Sample' is selected from the menu (as indicated in the top left corner) a historical clickable folder format is available where all the results you have ever received are available. Clicking on 'default query name' enables you to create your own queries e.g. displaying results for a certain site or test, depending on your requirements.