Senior Environmental Field Chemist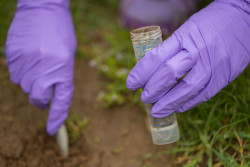 ALS Environmental Field Services department can provide a specialist Senior Environmental Field Chemist for OnSite analytical support during site investigations or remediation works on Brownfield land. Some of the services available from our Field Chemist's include:
By using our range of OnSite tools ALS Environmentals Field Chemists are able to assist in classifying your sites contamination risks and designing an appropriate sampling strategy. Our experts have over 10 years field experience in contaminated land and environmental monitoring.
Our Field Chemists are supported by our Equipment Hire department for soil, gas and water sampling, monitoring and testing, by our UKAS ISO 17025 accredited waste water and soil laboratory in Coventry.
For more information on our Contaminated Land services please click here.