onsite aNALYSIS (sOILS)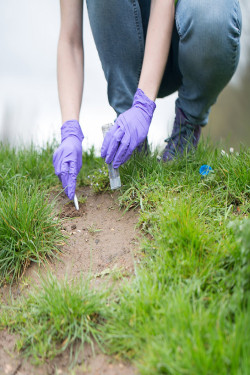 OnSite analysis provides, a reliable, rapid and cost effective method of investigation for contaminated land remediation. ALS Environmental offer a range of OnSite tools for soils, associated waters and gases which include: VOC's, SVOC's, metals and Hydrocarbons.
OnSite analytical tools deliver almost immediate analytical results and can be used to identify areas of contamination quickly and precisely, taking high numbers of samples in a short space of time.
To meet your OnSite analytical requirements ALS Environmental are able to provide the Niton Portable XRF. The XRF is able to analyse for an array of metals in soils samples using X-Ray diffraction and is available for short or long-term hire. The XRF can provide you with analytical data for metals content in under 2 minutes, which enhances onsite decision making, resulting in time and laboratory cost savings.
Due to the XRF being a source of radiation we are able to provide specific training from our Radiation Protection Supervisor in using the tool safely and effectively.
The SiteLAB UVF-3100 consists of an analyser to investigate TPH, PAH, BTEX/GRO in soil and water samples. The analyser utilises Ultraviolet Fluorscence (UVF) technology to quantify the levels of Hydrocarbon contaminant present in a sample.
The SiteLAB UVF 3100D can be used to analyse a sample in around 10 minutes for any one of the Hydrocarbon groups utilising the specialist filter. To enquire about hiring any of our OnSite tools or for questions about our equipment please contact us.