Waste water Analysis
As the UK's leading supplier of waste water analysis, ALS Environmental carry out water quality monitoring and testing on a wide range of samples.
We are able to analyse the following matrices: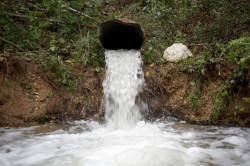 Wastewaters
Groundwaters
Land leachates
Process Waters
Prepared Leachates
Surface Waters
Treated Sewage
Untreated Sewage
We hold one of the most extensive ranges of UKAS and MCERTS accreditation across all of our water matrices in the UK analytical market.
To find out more about these matrices, see our Water Matrix Classification Summary
Our extensive range of analysis for wastewaters includes:
VOCs (Volatile Organic Compounds)

SVOCs (Semi-Volatile Organic Compounds)

PAHs (Phenoxy Acid Herbicides)

Hydrocarbons (EH - Extractable Hydrocarbons, TPH/EPH - Total/Extractable Petroleum Hydrocarbons, VPH - Volatile Petroleum Hydrocarbons)

Metals, total and filtered/dissolved (Toxic 6 and many more)
BOD (Biological Oxygen Demand)
E. coli
Total Coliforms
TVCs (Total Viable Coliforms)
Enterococci
To see more about the methodology above, please click here
We are able to assist clients by providing analysis to help you comply with:
For further information please click here to see our Wastewater Testing Brochure
In providing environmental research, ALS Environmental is one of the UK's leading laboratories in identifying and assessing environmental pollutants in your samples.
We also have a dedicated team available to provide urban wastewater sampling services to meet the requirements of the Urban Wastewater Directive (91/271/EEC).
All of our analytical data can be reported to clients using our online results portal known as Webtrieve.